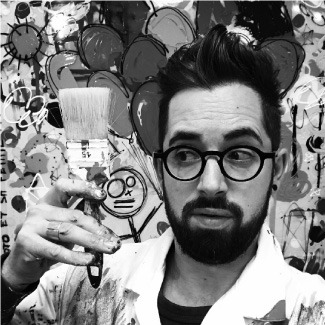 Why it's Great
From the curator: With his spontaneous paintings and sculptures depicting everyday life scenes in his unique visual language, David is the rising star, not only in France but in Europe. In his inaugural show in Hong Kong his works sold out. Definitely worth investing in.
Plunge in the fabulously rich and playful universe of David Ferreira, France's most promising young artist! Born in 1982, he lives and works in Western France with his wife, his muse and two young children – a family life that he depicts in his works. Studied to become a land surveyor, David dumped everything for art, according to him "a sensory experience". However, in his compositions full of color and life, the mathematical rigor is still present in the perfection of his lines and geometrical shapes, puzzles and equations.
Very much an autobiographical work in "Toto", his lucky number 15 appears regularly in his works as a signature. Love it or hate, David's art is resolutely personal and intimate and with its very strong personal identity, he is one the most sought after artists in France and in Europe right now.  His works are spontaneous but controlled, using overlapping layers of paint and sometimes objects. For instance, his paintings tools like the brush, becomes an ornament. The way he shows off color and material is unique as he applies a thick glossy topcoat making the painting almost sparkle. He shows in London, NYC, Milan, Belgium, Paris and he is taking the world by storm.