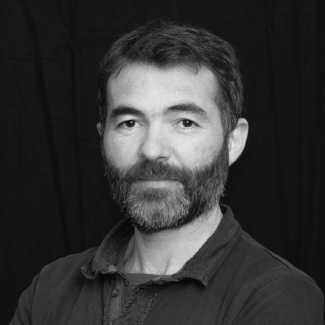 Why it's Great
From the curator: Romuald has a strong and very unique visual language and a perfectly mastered technique. Major galleries in Paris are interested in his works.
"Raku" means "happiness by accident" and it is an ancestral and difficult Japanese firing technique that Romuald Daniel masters fully. Born in 1970, he lives and works in Provence. Two words about Raku : originally used for tea ceremony in Korea, it was brought to the Imperial court of Japan in the 16th century. The particular process of firing produces a cracking effect because of a thermal shock, creating a spider web effect when glazed that is totally unpredictable and unique.
Raku differs from other firing techniques as the pieces are taken from firing at its hottest temperature. Romuald started by drawing then moved to sculpture and decided to try Raku, in which he found his calling. A perfectionist, he travels to Asia extensively where he finds his inspiration. The highly skillful technique is suited for his works that are stylized and complex. His geishas are elegant and mysterious and his Vietnamese figures create an amazing sense of movement.
2017
International Contemporary Art Show, Cannes, France.
International Contemporary Art Show, Paris.
International Contemporary Art Show, Toulouse, France
International Contemporary Art Show Metz, France
2016
Invitation by artist Verronique Ziminski to exhibit at Maison Boetie, Sarlat, France.
Art East Show, Vittel, France.
International Contemporary Art Show, Montpelier, France
2015
Sculpturum, Strasbourg, France
2013
Guest of honor, Siant Amarin Show, Alsace, France
2010
Special Fund Raising show organized by Rotary Club for Relief of Haiti victims, Sallanches, France
2009
International Painting and Sculpture Show, Haute-Savoie, France (Award 1st place in competition)