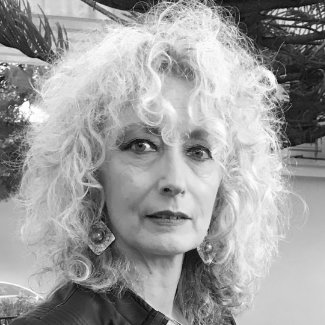 Why it's Great
From the curator: Sally Mustang total mastery of the new and contemporary technique of Pouring Art is visible in her deep colored and glowing creations. Her experience as an artist shows in her well-balanced works.
Sally was born in 1961, in Nancy in North Eastern France where she studied Fine Arts and Photography.
She later experimented with a flurry of mediums: Ceramics, Graphics, even book-binding.  She worked as a book binder for roughly 20 years.
By moving to the South of France, like many artists, new inspiration hit and it was a turning point in her career.  In 2010, after a long break from painting, she stumbled on the very new and unique technique of Pouring Art.
Closely associated to Rheology in Physics, or the study of deformation in matter, mainly liquids, Pouring Art demands strict control of the interaction and flow between the different paints, pigments and polymers.
Very abstract, with no tools, Pouring Art requires extreme expertise with medium: Sally applies 4 layers of epoxy resin on her canvases, giving a thick, glossy and rich finish to her colorful and mysterious creations.