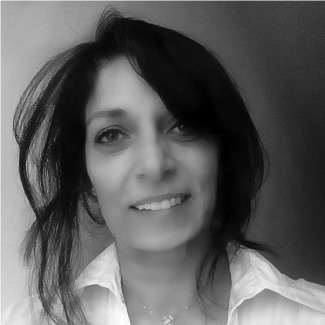 Why it's Great
From the curator: Sophie is an outstanding artist that has found her mature voice and mastered a challenging technique to perfection. Her very contemporary work sends a relevant message to society where we are caught up in a constant movement that engulfs us and that we cannot no longer control. Her works are exhibited throughout France and found in various private collections around the world.
Born in 1967, and a graduate of the Academy of Fine Arts in Nancy, Sophie works and lives in the South of France. After more than ten years of making "papier mache" sculptures, she has reached her mature style and a unique artistic expression. She blends 3D elements – her hand made wooden figures frozen in resin – to a background that is rich in glossy medium and geometrical. This opposition of movement and static makes her works and her technique truly unique as she depicts movement of the modern man caught in a frenzy.
She creates everything herself, the 3D figures, the composition with the use of vibrant and neon colors and the application of epoxy resin. Her latest series is a fascinating example of hypnotic art in which the viewer is immersed in the swirl of the frantic pace of modern life. Her works are exhibited in numerous top galleries in France and were shown at the Grand Palais in Paris in 2009 and also in many European countries such as Switzerland and Belgium. Her avant-garde work is bold and new and certainly one of the most impressive contemporary artists in France right
2017
Hong Kong – Art'n'Yachts – Art Show on board luxury yacht RIVA 100
Reims, France. Galerie28, Group Show
Aix-en-Provence, France. Contemporary Art Show
Marseille, France. "Women 3000@ArtImpulse" Group Show
Lyon, France. CMS Francis Lefebvre, Solo Show
2016
Brussels, Belgium.Contemporary Art Fair.
Chateau Roubine,France."Art&Wine", Solo Show.
Draguignan, France. "Yves Dufresnes Gallery" Solo Show.
Paris, France. Contemporary Art Fair.
Raphael, France. "ArtLife" Gallery, Group Show.
2015
Paris, Villette, France. Contemporary Art Fair
Rennes, France. Contemporary Art Fair
Istres, France. "Tribalion" ArtZoo, Group Show
Montreux, Switzerland. "MontreuxArtGallery" Group Show