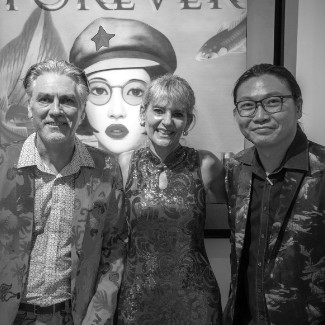 Why it's Great
From the curator: POP ORIENT is the new crazy Asian experience. It's a bright and bold somewhat outrageous luxury art and lifestyle collection that completely redefines a new cool Asian vibe in art.
POP ORIENT's first collection "Shades of Asia" is a series of brightly colored and funky Asian inspired portraits in a variety of mediums and lifestyle items.
The cheeky artworks invite a serious reflection upon China as the new world superpower and its post Mao era.
The Gung Ho Team consists of gallerist and interior designer Edith HO, Malaysian born artist HONG and internationally renowned British Pop artist Jonny Zerox.
Gung Ho is the latest thing to have been unleashed into the urban Jungle with pop-art flavoured, eye-catching and highly intoxicating pieces.
Literally translated, Gung Ho means "an enthusiastic collaboration ", but they define themselves as "three members of a perfect pair".