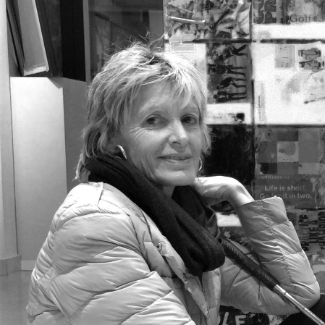 Why it's Great
From the curator: A very mature artist, Stern has found her language in creating intricate and complex visual compositions. Her creations are filled with an incredible amount of  details and significant quotes making her works very relevant in today's contemporary art scene.
Stern is an international  French contemporary artist living in the South of France. As a child,  travelling a lot with her father, also an artist, throughout the region famous for its luminous colors and acquired an acute sense and understanding of the use of hues.
From a visual point of view she experiments with mixed techniques through collages and painting. Torn photos, posters, recycled wine and champagne corks are harmoniously combined with acrylic layers.
Distancing herself from the initial context, the artist creates a whole new composition. A subtle and  harmonious blend of Pop and Street art, her works focuses on icons of popular culture with a touch of fantasy and glamour.