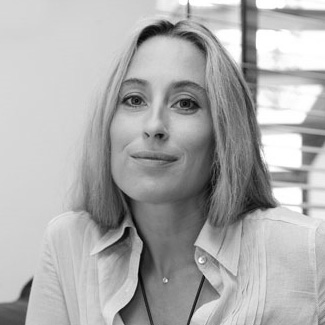 Why it's Great
From the curator: Unique visual language, extensive use of different media and very balanced compositions.
Laeti's work is being recognized worldwide. Her work bridges cultures and is very much liked in different countries. She is successful wherever she shows.
Laeti's art is an ode to joy. Her paintings are like poems, full of color and life. In her own universe, sometimes geometrical, sometimes with curves she retains a unique style that reminds us of Klimt. She uses repetition of shapes but the lines are bold and the ground is rich as a result of her choice of multiple media. She uses oil, acrylic, gold and silver leaves, rich coats of epoxy resin for a very glassy surface and yes, nail polish!
She was born in Bougival near Paris, in the land of Impressionism. At 18, she went to the capital to study at the Beaux-Arts, or Fine Arts Academy. In 2007 she moved to the South of France and this gave her work a new impulse: her paintings became brighter and even more full of harmony and balance in color and composition.
She is 48 years old and has a long career having participated in numerous exhibitions all over France. Her breakthrough came in 2015 when the Cultural Ministry of Dubai invited her to take part in a big show and has supported her ever since.
2017
Aix-en-Provence, France, Contemporary Art Fair
Paris, France. Contemporary Art Show
2016
Marseille, France. Red Cross Gala
Dubai, "Illustrations" Show – 2 months
Aix-en-Provence, France. Contemporary Art Fair
Ensues, France. "International Women's Day" Collective Show
2015
"Thematic Illustrations" Show
Marseille, France. " Chinese Paradise " Gallery, Collective Show
"Light Gallery" Collective Show
2014
Aix-en-Provence, France. "Alter Ego" Gallery, Collective Show
Marseille, France. Red Cross Gala.
Veynes, France. "G'M" Gallery, Collective Show
Marseille, France. "The White House", Collective Show