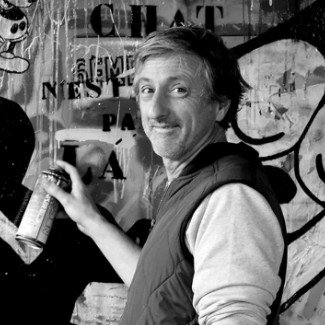 Why it's Great
From the curator:  Apparently simple, Kikayou's work is unique in style and execution. His collage and multi-layered paintings are often an invitation to reflect upon society and contemporary consumer culture.
Kikayou is a French contemporary artist from South Western France born in 1966. He started as a professional lighting designer and this skill is visible in his art. He has an exceptional ability to capture light through his technique of multi-layering. Later in life, his growing desire to expand his creative vision to other mediums, pushed him to experiment with paint and he dropped his job to become a full-time artist.
Kikayou has an extraordinary ability to work with light and his body of work is unique by the very intricate way in which he applies multiple layers – light washes – with collage, spray paint, watercolor and pastels.
His paintings are dynamic, positive, happy and heavily inspired by Basquiat and the Pop Art movement, creating a unique visual language that is a successful mix between Street Art and Urban Art with a strong reference to comics and posters. The apparent chaos is actually an invitation to live life to the fullest.
He is a well-established artist in France and in Europe with many solo exhibitions in prestigious galleries in Paris and with many collectors around the world namely in the United States where his art is very popular. Recently, he was signed up by several contemporary galleries in London and now in Asia with Gallery des Artistes.