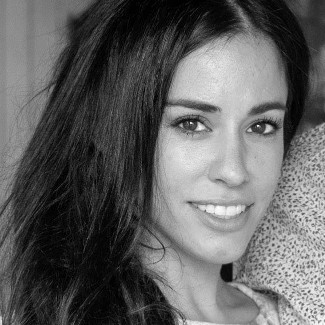 Why it's Great
From the curator: Marie's works are a feast for the eye and show a very mature visual balance in terms of color and composition. With her very unique and intricate technique, her unusual creations are captivating audiences worldwide.
Marie KVK is an international artist from the US born in 1980 who lives in Provence, France.
After completing her degree in Fine Arts in Minneapolis and Madrid, she started her career in NYC.
In her artistic journey, she experimented with a plethora of mediums: spray paint, oil, airbrush, stencils, epoxies and resins.
After settling in France, in 2013, she was spotted by the very exclusive furniture line Roche-Bobois and has been part of a very restricted small group of artists that work with the brand. Subsequently, she gained exposure around the world.
Her paintings are a mix between abstract and figurative, depending on the series. The PIXEL series is based on the concept of "re-grouping to reveal  – by revealing the smallest possible element, the artist suggests a deeper discovery. The ultra-modern Valentina series strikes the viewers with color and mystery.
Latest exhibitions 2018
2018/2019 Couvent des Minimes, Provence, France.
Solo exhibition
July 2018, Cannes, France
International Contemporary Art Fair
September 2018, Lyon, France
Contemporary Art Show, Halle Garnier
October 2018, Bordeaux, France
Contemporary Art Show, Parc des Expositions.
And many more…………