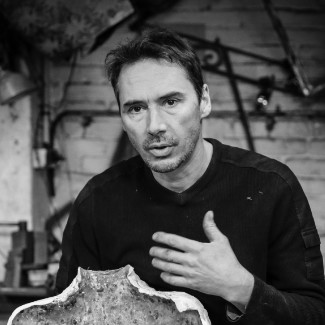 Why it's Great
From the curator:
Nicolas' unique intricate technique of "steel lace" shows a perfect balance between medium mastery and the artist's message. He glorifies the beauty and curvaceous female sensuality with an extremely challenging material.
Born in Paris in 1969, Nicolas started studying art and design at a young age.
His trajectory as an artist began in San Francisco where he discovered the craft of metal working at the California School of Design and Crafts. Upon his return to France he applied his new skill set as a blacksmith to begin to design furniture. Fascinated by the material, he later moved on to sculpture both abstract and figurative. The battle between fire and metal requires great strength to win over the hard, cold surface, yet Nicolas' sculptures are soft, airy, full of graceful curves that celebrate the beauty of the female body.
The technique is the result of a long process: female models pose to create moulds in plaster and gauze strips. He then places the metals pieces on the mould before welding them together. Inspired by Brancusi and Henry Moore, the sculptures project fascinating shadows full of promises and mysteries. His work is exhibited throughout Europe and in major galleries.