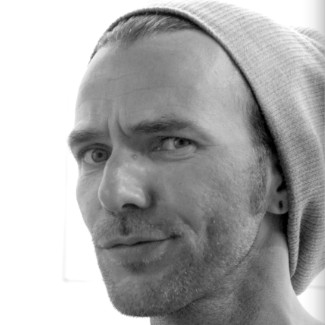 Why it's Great
From the curator:David's sculptures are universal and he managed to find with Flexo – a sleek genderless and raceless figure – a language that is immediately recognizable, making him one of the most sought after artists in Europe at the moment.
Zed is a French artist born in 1976 in Northern France and originator of a new world trend:  The Flexo Attitude. There are to date more than 5,000 Flexos around the world.
After having spent many years living in the Caribbean Island of Guadeloupe where he was sculpting traditional figures in wood, he moved back to France to promote his work.
Fame struck when famous soccer player Thuram bought one of his sculptures and Zed stayed in Europe. He stumbled by chance on a new material, acrylic and discovering its potential, he created Flexo.
Flexo is a study on human attitude and movement, a neutral, universal figure without gender or race with a unique silhouette that shows that we are all equal no matter where we come from. Each Flexo is thermoformed thus unique.
Zed is represented by many famous galleries and design shops around the world and in June 2018 he had a major solo exhibition at the headquarters of the European Council in the city of Strasbourg.
2019
December – Miami, Florida USA – Art Basel
October – Kuala Lumpur, Malaysia – ArtExpo Malaysia
April – Luxembourg – Contemporary Luxembourg
April- Deauville,France – Art Shopping
March – Nantes,France – International Contemporary Art Show
February – Lille, France – ArtUP International Fair
February- Toulouse, France – Contemporary Art Fair
February – Paris,France – Louvre Art Show
2018 
November- Brussels,Belgium – Contemporary Art Show
November – Mulhouse,France – Art Fair Mulhouse
November – Paris,France – Louvre Art Show